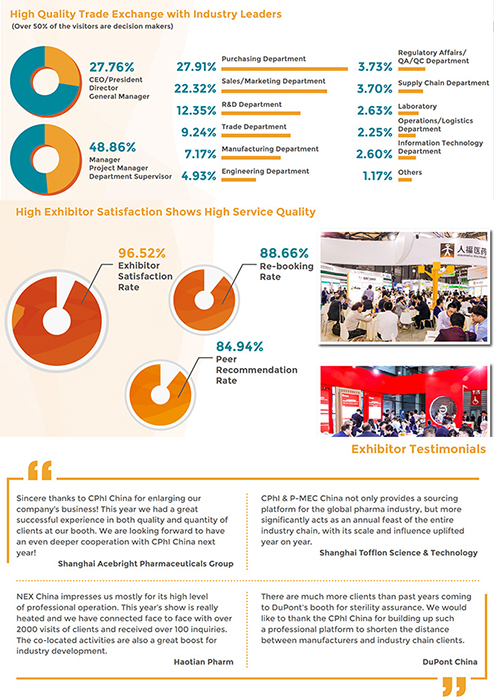 Reach Decision makers
Nearly 50% of the visitors are decision makers, gathering high-end pharmaceutical business ecosystem.
Purchasing Dept. 27.91%
Sales/ MKT Dept. 22.32%
R&D Dept. 12.35%
Foreign Trade Dept. 9.24%
Manufacturing Dept. 7.17%
Engineering Dept. 4.93%
Explore the wide local market
With the continuous increase of Chinese people's living standards and health concepts, as well as government's investment in medical and health services, China's pharmaceutical packaging market will usher in a faster growth in the future. According to the forecast, in 2014-2018, China's pharmaceutical packaging market will have an average growth rate of 10.6% growth and is expected to reach 99.1 billion RMB in 2018.
Networking with buyers all across the world
15,329 visits by International visitors
Aisa 73%
Europe 15%
America 8%
Africa 3%
Others 1%
Extra release on diversified media
Multi exposure of your brands through WeChat, Weibo, Newsletter, Facebook, LinkedIn, official website.