Cost effective Silver Winner
Company:
Schreiner MediPharm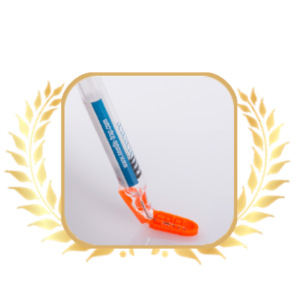 Product  Introduction:
Needle-Trap is a unique, label-integrated needle protection system that helps to prevent accidental needlestick injuries. The innovative label for prefilled syringes features an integrated needle catcher that serves to secure the needle after the injection has been performed. Needle-Trap's activation is easy and requires no change in injection technique. It can be easily processed on conventional labeling systems in pharmaceutical production. Needle-Trap meets the requirements of both healthcare professionals and the pharmaceutical industry: It combines safety and convenience in healthcare practice with cost-efficiency, flexibility and process reliability for the pharmaceutical manufacturer. Due to its compact design, Needle-Trap provides integrated sustainability at its best. The integrated plastic catcher contains up to 50% regranulate material. Compared to conventional needle protection systems, it contains less plastic, no metal and features a very compact design with no need to modify secondary packaging. This means minimal space during transportation, storage, cooling and disposal, reducing the environmental footprint.
Fill out your detailed information and we'll contact you soon!