Patient Adherence Gold Winner
Product: HeroTracker® Sense Digital Solution for Respiratory Conditions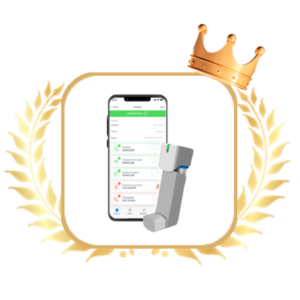 Product  Introduction:
HeroTracker® Sense is a digital solution for respiratory medicine and designed to help improve the lives of patients around the world suffering from chronic respiratory diseases such as asthma, COPD, Cystic Fibrosis and other respiratory conditions caused by COVID-19, to track their MDI usage and facilitate improved inhalation technique and adherence to their prescribed therapy.
By attaching to the canister of an MDI, HeroTracker® Sense has a number of features to help asthma and COPD patients take their medication in a more informed and compliant way. The sensors in the device enable the creation and supply of information such as co-ordination of inspiration with actuation, flow rate and inhalation duration. Other features available through the app include date and time stamps to indicate when the patient should take their medication, as well as environmental monitoring alerts such as temperature and humidity.
HeroTracker® Sense offers healthcare providers (HCPs) valuable analytics and insights into patient training, onboarding and performance, while patients can monitor their adherence through the BreatheSmart® app.
Fill out your detailed information and we'll contact you soon!