Market Potential Silver Winner
Company:
Aptar CSP Technologies
Product:
Activ-Blister™ Solutions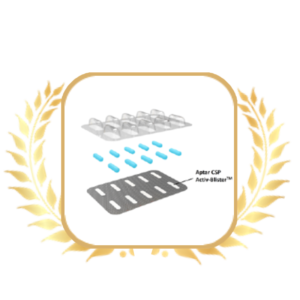 Product  Introduction:
Activ-Blister™ Solutions provides drug product specific protection to address growing stability limitations in a blister packaging format. This innovative technology integrates Aptar CSP's proprietary 3-Phase Activ-Polymer™ film into each individual blister cavity to provide the ideal microclimate to protect tablets or capsules inside a thermoformed blister package.
Using highly-engineered 3-Phase Activ-Polymer™ technology, Activ-Blister™ can adsorb tailored amounts of water vapor, scavenge oxygen or VOCs, or provide a combination of active protection. The technology can be fitted to accommodate any tablet or capsule size and is securely bound to the lid stock using our proprietary heat-staking technology.
Why Activ-Blister™ Solutions?
Advanced product protection for controlling humidity, oxygen, and reactive impurities
Reduced package complexity: Actively control internal headspace without nitrogen flush, secondary packaging, or refrigeration
Move from cold-form to thermoform blisters enabling visibility of the dose with a 40-60% smaller blister footprint
Allows sensitive products to transition from traditional desiccant packaging (such as bottles with canisters or sachets) to thermoformed blister cards without sacrificing headspace protection
Can be integrated into existing blister packaging lines
Heat-staking, adhesive free and cost effective
Eliminates residual solvents that can off-gas and interact with drug product
Fill out your detailed information and we'll contact you soon!